Competition win: HTL Anichstraße in Innsbruck
The compact one-storey extension of the HTL Anichstraße in Innsbruck follows the contours of the existing building. As a special quality of the competition entry, the jury highlighted the sheltered outdoor terraces facing the inner courtyards. The heart of the extension is a new auditorium which is visible from the central inner courtyard and allows various uses without disturbing the lessons in the adjoining classrooms.
Due to the large spans in the existing building and the associated low reserves, the extension is only possible in lightweight construction with a load-discharging steel construction and cross laminated timber ceilings in between.
In order to make use of the maximum storey height and to save construction height, the cross laminated timber panels are placed between the steel beams on laterally welded plates. The ceiling and floor levels are used as shear-resistant panes to transmit the shear forces. Horizontal load transfer is effected via stiffening wall panels.
The advantages of this construction method are the high degree of prefabrication, the low assembly tolerances and the fast assembly on site.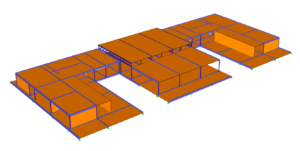 Spatial model of the supporting structure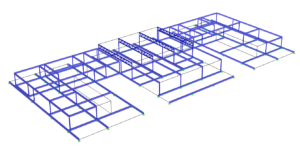 Steel structure with supporting grid in floor and roof area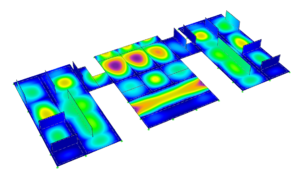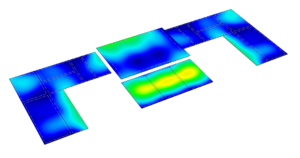 Deformations of cross laminated timber panels
Graphics: YF architekten and werkraum ingenieure