Park, opening ceremony 1.9.2017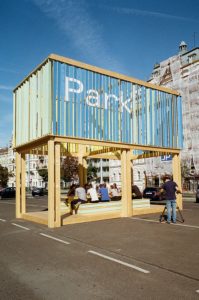 At the Viennese market "Naschmarkt", at the subway station "Kettenbrückengasse", the temporary space installation "Park" stands. The parking lot, on which the prototype stands, offered a potential area. The wooden structure is a statically interactive structure because the movable slats allow the wind loads to pass through.
Team Wien, an association of different architects that strive for a joint urban development, initiated the project.
Together with experts and inhabitants of the city of Vienna, they want to find out how public non-commercial space is usable. City-political issues are at the forefront and are discussed together from 1 to 24 September 2017 by the diversity of the public framework program.
More information go to:
http://www.parkmachtplatz.at/
Pictures: © Zara Pfeifer