MKKD – Museum of Concrete Art and Design in Ingolstadt
This landmarked foundry hall, constructed in the late 1800s and witness to Ingolstadt's industrial history, is being rebuilt and extended to become the future Museum of Concrete Art and Design. The architectural office querkraft architekten provided the drafts for this venture. They aimed to create a 2000 square metre exhibition space as well as all necessary utility rooms underneath the existing historic hall (approx. 90m x 23m). The cellar space would be around 6.5 metres deep.
In order to achieve this, the existing interior columns made of cast steel had to be made unencumbered and temporarily expanded. A provisional steel framework construction (which can be seen in light grey in the image) was built and prestressed against the historic structure. This way the structure's weight was taken off the cast steel columns and transferred onto the exterior walls. The now unencumbered columns were expanded and will later be part of the new construction, after undergoing professional renovation.
Next steps include the excavation of the new exhibition hall which requires the transferral of the existing foundation's weight onto micro poles, using steel girder grids. This means that the entire historic hall will be temporarily standing on stilts, so to speak. Following this, the full excavation and installation of the new reinforced concrete cellar construction will take place.
The new museum is to be completed and opened in 2020.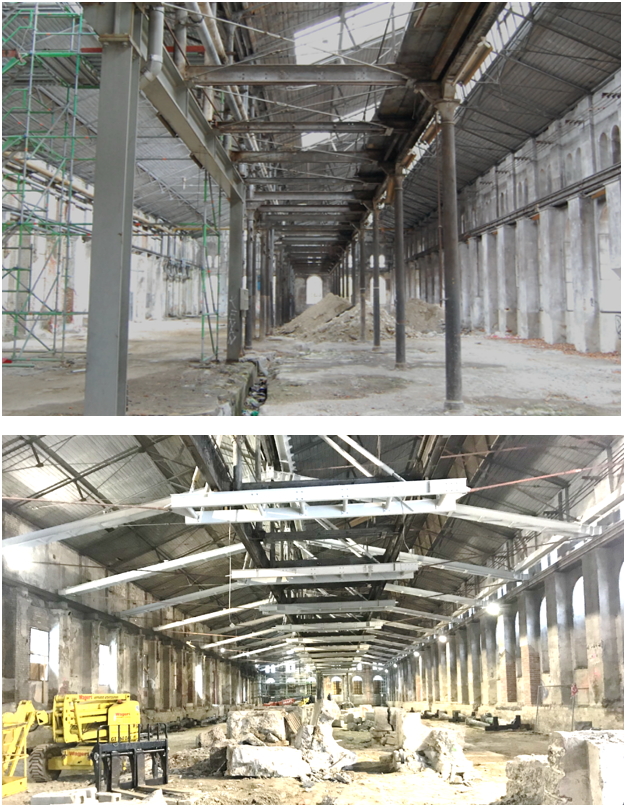 To our project:
https://www.werkraum.com/en/projects/museum-of-modern-art-ingolstadt/https://www.werkraum.com/projekte/museum-fuer-konkrete-kunst-ingolstadt/